Power Generation - Solar & Wind
Trends
Demand is driven by industrial, commercial, and residential needs for electrical power. The magnitude of such needs depends mainly on economic activity and population growth. Overall, government regulations, incentives, and technology factors determine plant profitability.
Maintenance Planning
Our high-quality power transmission, motors, and controls help reduce excess downtime for more reliable scheduling of maintenance.
Control & Monitoring
Solar and wind farms are highly automated with monitoring equipment to sense changes in loads based on system demands. Our customized control solutions combine control, monitoring, and MMI functionality to save time, increasing uptime and delivering high paybacks.
---
Power Generation - Solar & Wind Solutions
The utility was experiencing coupling failures on an existing wind farm and needed help in the analysis of the failure. They needed a recommendation regarding what coupling to use in preventing any future occurrences and to move forward by alleviating the excessive downtime these chronic failures had been causing. They turned to the experts at Regal for help!
Learn More
Power Generation - Solar & Wind Related Videos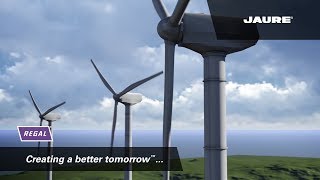 Jaure wind power drives solutions
Jaure® couplings for wind power drives
Power Generation - Solar & Wind Products
Power Generation - Solar & Wind Literature Training
NEMA® MG1-2006
EISA/NEMA Premium®
Underwriters Laboratories
Canadian Standards Association
CE Mark
Nema is believed to be the trademark and/or trade name of National Electrical Manufacturers Association and is not owned or controlled by Regal Rexnord Corporation.
Power Generation - Solar & Wind Reference List
Regal manufactures high quality motors, controls, generators and power transmission products for a myriad of industries and applications. We offer motors ranging from high efficiency PMAC variable speed to medium voltage motors. Our drives and controls are "Performance Matched" to operate seamlessly with our motors. We build tough generators for "Mission Critical" applications and the reliability of our power transmission products guarantees years of trouble-free performance in the most demanding applications. We offer custom control solutions that save energy and reduce downtime, returning a high ROI.
| Motor Types | Axis Trackers | Gearbox | Generators |
| --- | --- | --- | --- |
| Brakemotors | | | |
| Gearmotors - AC | • | | |
| Gearmotors - DC | • | | |
| IEC | • | • | |
| Integral Horsepower | • | • | |
| Variable Speed | • | • | |
| Drives & Starters | Axis Trackers | Gearbox | Generators |
| --- | --- | --- | --- |
| AC Drives | • | • | |
| Generators | Axis Trackers | Gearbox | Generators |
| --- | --- | --- | --- |
| PMDC Generators | | | • |
| Motor Types | Axis Trackers | Gearbox | Generators |
| --- | --- | --- | --- |
| Couplings | • | • | |
| Gear Reducers | • | • | |
| Mounted Bearings | • | • | |
Segment Analysis
United States Solar & Wind Industry Overview

The solar and wind power industry generates revenue from owning and operating solar and wind farms and selling the produced energy to downstream customers. Over the past five years, government assistance has made these energy sources more cost competitive with other electricity-generation sources, with net generation from solar and wind continuing to increase.

Solar Power

Electricity production from solar power has expanded broadly over the past five years. However, according to the latest estimates from the EIA, solar accounts for less than 0.4% of net electricity generated in the United States. Nevertheless, the industry's rapid growth, spurred by government policy and augmented by strong public support, suggests that solar power generation will secure its place in the domestic energy sector.

Wind Power

The United States is home to more than 52,000 wind turbines installed across 40 states and Puerto Rico. Performance in the wind power industry continues to depend largely on government support for renewable energy at the federal and state levels. Federal tax credits can make the costs of wind power competitive with other energy-generation technologies, which translates to higher demand and revenue for the industry. Along similar lines, state governments can mandate that utilities diversify their generation sources, which leads to greater demand for wind power. Growth is projected through 2022.

SOURCE: WWW.IBISWORLD.COM
Power Generation - Solar & Wind Regal Brands
Association
Regal actively supports and participates in industry leading trade associations, such as the American Gear Manufacturers Association (AGMA), the Electrical Generating Systems Association (EGSA) and the National Electrical Manufacturers Association (NEMA) that promote the power generation industry and its member organizations.