Craft Brewers Conference 2023
Date: May 7-10, 2023
Location: Music City Center, Nashville, TN
Booth #: 2625
Industries: Beverage, Craft Brewing, Bottling, Canning, Case-Handling
Regal Rexnord is excited to announce we will be exhibiting at Craft Brewers Conference in Nashville, May 7-10. Meet our team at Booth #2625.

Come visit Booth #2625 to learn more about our complete conveying solutions, including Valu Guide Components, Rexnord and System Plast TableTop and MatTop solutions, SealMaster Bearings, Regal Rexnord Gearing options, and more.
To help manufacturers reach their goals, Regal Rexnord designs innovative products with a dry running solution that helps to reduce costs, improve productivity, and decrease their environmental footprint. The success of Run Dry technology depends on the objectives set by manufacturers- it can save water, reduce bacteria growth due to the removal of wet lubrication, improve product handling performance, and meet your organization's sustainability goals.

Along with other run-dry technology, System Plast NG Evo Modular Belts have a lower wear rate than typical acetyl chains seen in the beverage industry, which expands cleaning options and improves chemical resistance. When used with Nolu-S wear strips, you can also reduce energy costs and time spent on maintenance in your facility.
---
Craft Brewers Conference 2023 Events - Release and Booth Information
Craft Brewers Conference 2023 Related Videos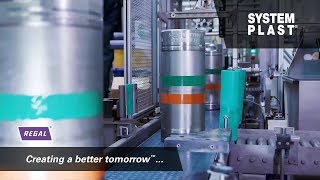 System Plast Helps Sierra Nevada Brewery Achieve Sustainability
Regal's System Plast® conveying solutions decreased the water usage at Sierra Nevada's brewery dramatically, helping to increase the brewery's sustainability goals.