EASA Expo 2021
Date: June 27-29, 2021
Location: Fort Worth Convention Center, Fort Worth, TX, USA
Industry: Electromechanical sales and service firms
---
EASA Expo 2021 Events - Release and Booth Information
Booth#: 227
Regal is attending the 2021 EASA Convention & Solutions Expo with a booth in person, focusing on solutions for the electric motor, pump, and apparatus repair, service and sales industries. LEESON® and Marathon® motors are ideal for electrical and mechanical apparatus applications; Rollway® bearings can be found inside Regal motors and are also available as replacement bearings.
EASA Expo 2021 Related Videos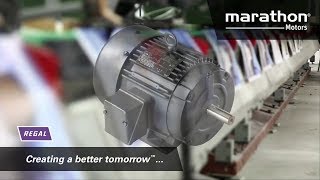 Marathon® SyMax® PM motors
SyMAX Permanent Magnet (PM) motors are available in power ratings starting at ½ HP – 200 HP for use in air handling, pumping, data room, industrial and conveying applications. These high efficiency motors exceed proposed IE4 efficiency levels.
Rollway Unmounted Bearings Overview
Rollway® bearings have played a significant role in the unmounted ball and roller bearing industry since 1908, providing high-quality standard and metric bearings to a wide array of equipment manufacturers and end-users.