Date: September 27-29, 2021
Location: Las Vegas Convention Center, Las Vegas NV, USA
Industry: packaging machinery, material handling, food and beverage
The System Plast® ModSort® module is a low-noise, low voltage modular transfer/diverter station that can move everything from tiny polybags to boxes. This suite of products can easily integrate with new or existing systems, eliminating the need for a lift, pneumatics, or Z-direction position feedback devices. Motorized drive rollers and controls allow flexibility in wiring, with safe, efficient, quiet and low-maintenance operation. Additional custom setups are available, such as the ModSort module mobile setup for fulfillment/distribution centers has a four-zone infeed that gaps a product, reads the package, and sends it down a belt, where it then diverts left, right or straight on a 30-degree spur-curve to one of three sorting locations. To learn more about the ModSort suite of products, visit regalbeloit.com/ModSort.
The Tag-It Program powered by Perceptiv™ intelligence helps speed up MRO, because you know what's there! Tag-It is an asset management platform which enables you to view details on mechanical and electrical assets in operation. You can also add Perceptiv wireless monitoring to keep watch on the health of your critical assets 24/7! With real-time monitoring, automatic ALERTS and remote diagnostics, you'll gain the insight to prevent unplanned downtime with a proactive maintenance strategy. More benefits include streamlining MRO inventory and procurement, and reducing redundant or obsolete inventory.
---
Pack Expo Las Vegas 2021 Events - Release and Booth Information
Booth Information:
Booth#: SU-7262
Pack Expo Las Vegas 2021 Related Videos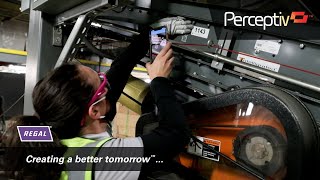 Perceptiv Intelligence: Hardware, Software and 'Humanware'
Perceptiv™ intelligence provides insight into equipment performance, so you can see the future and change it. With Perceptiv intelligence, you get end-to-end IOT solutions for your most critical applications and for the balance of plant assets. Perceptiv intelligence marries hardware, software, and 'humanware' to help you lower total cost of ownership and keep production moving.
Pack Expo Las Vegas 2021 Events - Literature