Trends
The aggregate industry is poised for solid growth tied to the updating of aging infrastructure. With increased emphasis placed on uptime, productivity, and operating efficiency, we offer a myriad of solutions that maximizes Return on Investment (ROI).
"Mission Critical" Products
Reliability, high performance, and energy savings are built into every industrial motor, control and transmission product, thereby extending plant operating life, maximizing production, and reducing energy cost.
Industry Leadership
We are recognized throughout the aggregate industry for providing solutions to the most demanding applications in the pit. Our know-how is based on over 100 years of industry experience in applying electric motors, gearing, bearings, and conveyor components in the harshest environments.
Marathon Motors for Aggregate
What if you could achieve the performance, reliability and flexibility you need today... at the efficiencies required for tomorrow. Marathon® Motors stands ready to meet your aggregate electric motor needs.
Talk to one of our expert sales professionals to learn more about how our solutions can improve your business.
---
Aggregate & Quarry Solutions
Aggregate & Quarry Related Videos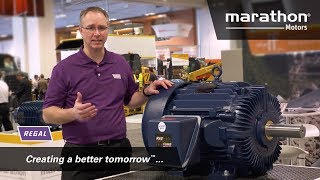 Marathon Motors for Aggregate
What if you could achieve performance, the reliability and the flexibility you need today... at the efficiencies required for tomorrow. Marathon® Motors stands ready to bee you aggregate motor needs.
Aggregate & Quarry Products
Aggregate & Quarry Literature Training
NEMA MG1-2006
EISA/NEMA Premium®
Underwrites Laboratories
Canadian Standard Association
CE Mark
Aggregate & Quarry Reference List
Regal manufactures high-quality electric motors, control and power transmission products for a myriad of applications. Our industrial motor line includes products from high efficiency severe duty, pump and aggregate duty industrial motors to medium voltage electric motors. Our drives and controls are performance matched to operate seamlessly with our electric motors. The reliability of our power transmission products guarantee years of trouble-free performance.
The application table is designed as a general guide to help you select the correct electric motor, Variable Frequency Drive (VFD) or power transmission component for a specific piece of equipment used in the aggregate & quarry industry.
Motors
Feeders
High Torque Loads
Mills - Ball
Mills - Hammer
Mills - Pellet
Pumps
Shakers & Screens
Variable Speed
Washers
Aggregate Duty

•

•

•

•

•

•

Pump

•

•

Severe Duty

•

•

•

General Purpose

•

•

Gearmotors

•

IEC

•

•

•

Medium Voltage

•

•

•

•

•

•
Segment Analysis
Capital Intensity

The Asphalt Manufacturing industry has a high level of capital intensity. In 2016, IBISWorld estimates that industry operators will spend $0.44 on capital for every dollar spent on wages. Capital intensity Remained relatively stable over the past five years. Capital investment is centered on the purchase and maintenance of plant equipment and trucks. Asphalt plants require specialized conveyors, screens, pumps, heaters, mixers, storage facilities, and emission control systems. Large producers of asphalt for nonbuilding operations are often vertically integrated. These companies may also own aggregate quarries and distribution operations, requiring further expenditures on specialized equipment.

The Asphalt Manufacturing industry requires skilled workers to oversee large portions of the manufacturing process as well as handle sales and logistics. The majority (54.4%) of companies in the industry employ fewer than 20 people. Within these smaller companies, each worker handles a wide scope of responsibilities.

Technology & Systems

The Asphalt Manufacturing industry's core production processes have remained stable over the last few decades. Asphalt paving materials are made through the mixing of asphalt refined from crude petroleum with dry aggregate materials, which is then dried to form asphalt blocks or asphalt pavement. Asphalt and tar roofing products are made by simply coating shingles or other roofing materials with asphalt. While these core production processes have remained unchanged for a long period, technological developments have allowed the Asphalt Manufacturing industry to expand its product offerings and appeal to a wider consumer base.

The clear majority of asphalt roads, driveways, parking lots and other asphalt paved surfaces were built using hot mix asphalt, which requires the asphalt to be heated up to very high temperatures when being laid onto the road. However, other asphalt paving mixtures that do not require such high temperatures are becoming increasingly prevalent. These paving mixtures, which include warm and cold mix asphalt, are diluted with other liquids. This dilution lowers the viscosity of the mixture in the same way that high heat does to hot mix asphalt so that the mixture can be laid onto the roadbed. As the mixture dries, the added liquids evaporate and allow the asphalt mixture to harden in the same way that hot mix asphalt does. Industry operators are also increasingly using reclaimed asphalt pavement, or asphalt that is partially composed of recycled asphalt roads. Reclaimed asphalt pavement saves industry operators money, and is beneficial to the environment as it conserves resources. The practice of recycling asphalt began in the 1970's and has picked up recently because of high petroleum costs.

There have also been technological advancements that have allowed for the increased recycling of asphalt roofing products. For example, some companies promote a program that allows contractors to recycle asphalt coated shingles, which are reused in asphalt road construction. In addition, technological advancements are being made to reduce the noxious fumes that are released when asphalt roofs are being installed.
SOURCE: WWW.IBISWORLD.COM
Aggregate & Quarry Innovation
High Performance Crusher Duty Electric Motor
A rock crusher is at the heart of every quarry, demanding high performance and uptime, working in the toughest of environments day in and day out, driving production and profits. Requirements called for a solution with greater product throughput and less energy consumption to maximize profits in the pit.
Aggregate & Quarry Regal Brands
Association
Regal actively supports and participates in industry leading trade associations, such as The National Stone, Sand & Gravel Association (NSSGA), that promote the aggregate industry and its member organizations.