Trends
Farming continues to evolve from a lifestyle into a business where operating efficiencies, equipment downtime, and energy cost dictate the ROI and profitability of the farm or aqua and mariculture industry.
Ease of Service and Replacement
Repair and/or replacements must be done quickly on site. This helps restore critical operations, prevents unnecessary downtime and the adverse effects to livestock, crops, confinements and aquaculture.
Reliability
Simply stated, we have built tough products despite the adverse extremes of ambient temperatures and the harsh environments that our power transmission and motors must operate in for the agriculture, aqua and mariculture industry for over 100 years.

---
Agriculture Solutions
Regal produces a wide variety of highly efficient center-drive gearmotors, that are dual rated for 50Hz/380V and 60 Hz/460V power. They can meet the different demands for most crop types and climate conditions for either linear or circular
Learn More
Agriculture Related Videos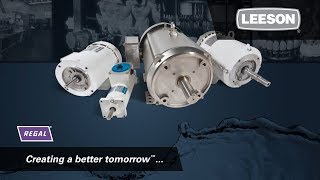 LEESON Washguard Motors
The LEESON® Washguard® industrial-duty line of motors are designed to meet the demanding conditions that you may find in processing plants, chemical processing, pharmaceutical plants and beverage and brewing industries.
Agriculture Literature Training
American Bearing Manufacturers Association (ABMA)
AGMA
Canadian Standards Association
CE Mark
EISA/NEMA Premium®
NEMA MG1-2006
Underwriters Laboratories
Agriculture Reference List
Note the various equipment applications within the Agricultural Industry, segregated by the motor types within each one. Additionally, Power Transmission equipment applications are also referenced.
Motor Types
Bulk Handling
Conveyors
Crop Drying
Grain Distributors
Fans
Feeders
Irrigation
Loaders
Pumps
Brakemotors

•

•

•

•

Crop Dryers

•

Farm Rated

•

Fractional

•

•

•

•

•

•

Gearmotors

•

•

•

•

•

IEC

•

•

•

•

•

•

•

•

Integral Horsepower

•

•

•

•

•

•

•

•

Pump

•

•

Variable Speed

•

•

•

•

•

•

•

•
AC Drives
Bulk Handling
Conveyors
Crop Drying
Grain Distributors
Fans
Feeders
Irrigation
Loaders
Pumps
Low Voltage VFD

•

•

•

•

•

•

•

•
Power Transmission
Bulk Handling
Conveyors
Crop Drying
Grain Distributors
Fans
Feeders
Irrigation
Loaders
Pumps
Belt Drives

•

Center Pivot Geardrives

•

Conveyor Components

•

•

Couplings

•

•

•

•

•

•

•

•

•

Gear Reducers

•

•

•

•

•

Mounted Bearings

•

•

•

•

•

•

Pulleys

•
Segment Analysis
Demand Determinants
Vegetables are sold to fresh and processing markets. As a result, any factors that improve demand for either of these downstream markets will lift returns to farmers. The largest factors that influence demand are dietary trends, produce price, consumer incomes, exchange rates and produce quality.

Product Attributes
Although demand for greenhouse tomatoes has been quite strong in the retail market, food service outlets (e.g. restaurants) still prefer mature green tomatoes. If the greenhouse industry will be able to develop flavorful, high-quality tomatoes, it may see an increase in demand. Similarly, the introduction of new types of mushrooms and research into alternative products (such as mushroom tea) may also boost demand for greenhouse mushrooms.

Major Markets
The US market for vegetables and melons can be divided into several segments, including: supermarkets and retail outlets; vegetable processors; food service industries; fresh produce wholesalers; and the US government (through the Department of Agriculture's Agricultural Marketing Service). Furthermore, the export market accounts for an estimated 11.9% of industry sales.
SOURCE: WWW.IBISWORLD.COM
Association
Regal actively supports and participates in industry leading trade associations such as Grain Elevator and Processing Society, that promote the grain and agriculture industry, and its member organizations.