Industry Trends
The United States Department of Energy (DOE) is undergoing an energy conservation standards change for Dedicated-Purpose Pool Pumps (DPPP) due to be enacted by July 2021.
Motor Impact
The new DPPP regulation requires variable speed motors for pumps greater than 0.711 Hydraulic Horsepower (HHP).
Energy Efficiency
High efficiency variable speed motors are a must in reducing the annual cost of operating pools and spas. For homeowners to receive the best energy efficiency, a pool motor replacement in a DPPP should include a variable speed motor versus a single-speed motor.
Scroll down for updates on DOE DPPP rulings.
---
Pumping - Leisure Solutions
It was the July holiday and the pool motor at a local country club went on the fritz with the potential of closing down the pool on the busiest day of the year! The existing motor was wired for 230V 60HZ and needed to be a direct drop-in replacement of the pump motor that had just expired. The club manager called a local repair shop for help!
Learn More
Pumping - Leisure Related Videos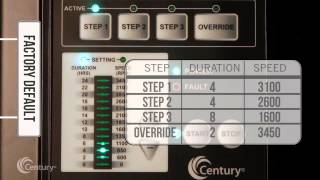 Century® VGreen® 165 Motor Overview
Learn more about the Century VGreen 165 Motor features.
Pumping - Leisure Products
Pumping - Leisure Literature Training
NEMA MG1-2006
EISA/NEMA Premium®
Underwriters Laboratories
Canadian Standards Association
CE Mark
Pumping - Leisure Reference List
Regal manufactures high quality motors, controls, and power transmission products for a myriad of Industries and applications. From high efficiency HVAC, pool, and spa motors to pump motors. Our drives and controls are "Performance Matched" to operate seamlessly with our motors. The reliability of our power transmission products guarantees years of trouble free performance.
| Motor Types | Hot Tubs | Pool - Commercial | Pool - Residential | Spa |
| --- | --- | --- | --- | --- |
| BDLC | • | • | • | • |
| Fractional | • | • | • | • |
| IEC | • | • | | |
| Integral Horsepower | | • | | |
| PMAC | • | • | • | • |
| Pump | • | • | • | • |
| Variable Speed | • | • | • | • |
| Drives & Starters | Hot Tubs | Pool - Commercial | Pool - Residential | Spa |
| --- | --- | --- | --- | --- |
| AC Drives | | • | | |
| Power Transmission | Hot Tubs | Pool - Commercial | Pool - Residential | Spa |
| --- | --- | --- | --- | --- |
| Bearings | • | • | • | • |
Segment Analysis
Residential Pool

60.0% of swimming pool construction is for new homes. Therefore, as conditions in residential construction rebounded, demand for new swimming pools also grew, albeit modestly.
Over the five years to 2022, the industry is expected to struggle to make a splash despite expected growth in residential construction. One reason for this mismatch is the industry's very success up to the Great Recession. According to estimates from PKdata, the number of households most likely to install a pool is between 750,000 and 3.4 million, which is far below the 5.1 million homes that currently have in-ground pools. This suggests that the rapid buildup of pools during the housing bubble has saturated demand, leaving future growth increasingly difficult.

Commercial Pool

Demand for new swimming pools in commercial settings is expected to increase during the period, which will partially offset weak revenue growth residential pools.

Hot Tubs & Spas

Over the next five years, the hot tub manufacturing industry is projected to grow moderately. Since hot tubs and spas are luxury goods, consumer demand products is highly dependent on income growth and consumer confidence.
SOURCE: WWW.IBISWORLD.COM