VGreen® 270 Variable Speed Motor
Features:
Full Variable Speed (600-3450 RPM)
Up to 80% Energy Savings
Auxiliary Load Capacity
60 Hz
Power Factor Correction
Freeze Protection
Totally Enclosed Fan Cooled Construction
Install on Existing Single or Two Speed Pumps
Easy to Install
Battery Backup – Program Saver
Ball Bearing
Rotation: CCWPE
Single Phase
303 Stainless Steel Shaft
Class F Insulation
50 Degree C Ambient
UV and Rain-Proof Enclosure
LCD Display with Backlight
230 Volts
Easy to Program
Compatible With Third Party Automation
Benefits:
The VGreen® 270 variable speed motor is a durable energy efficient replacement pool pump motor known for its ease of installation and premium energy savings of up to 80 percent versus a conventional single speed motor.
The VGreen 270 variable speed motor by Century is a durable TEFC replacement motor designed to deliver premium energy savings from 40 percent to 80 percent versus a standard single speed motor.
REPLACE ANY MOTOR WITH A VGREEN® 270 MOTOR
The VGreen 270 motor can replace any single speed motor without replacing the pump, turning any pool into a high-efficiency system that is better for the environment and lowers the cost of pool ownership.
VGREEN® MOTOR EFFICIENCY
The integrated user interface allows for easier and faster installation while the durable TEFC construction with ECM technology delivers 40 to 80 percent energy savings versus a single speed motor.
PROGRAMMING FLEXIBILITY
The VGreen® 270 variable speed motor offers three variable speeds, programmable from 600 to 3450 RPM, allowing users to easily identify and set the appropriate speeds to minimize energy consumption and lower the overall cost of pool ownership, all while maintaining the proper pool environment. The programming flexibility offered by the VGreen 270 variable speed motor makes it possible for pool owners to easily identify and adjust speed and duration settings necessary to maintain their pools and to maximize energy savings.
REPLACEMENT VERSATILITY
Available in both square flange and C-face configurations, the highly versatile VGreen® 270 variable speed motor can be utilized in pool pump applications ranging from 3/4 to 2.70 total horsepower. Installation on most pumps, regardless of manufacturer, is as simple as replacing a standard single speed motor. There is no additional wiring or plumbing required, thanks to the VGreen motor's integrated user interface. Equipped with digital inputs, the VGreen 270 variable speed motor is even compatible with third party pool automation systems.
THE NEXT GENERATION OF THE MOTOR USER INTERFACE EXPERIENCE FROM CENTURY® MOTORS.
Always thriving on innovation, we now offer wireless capability for VGreen® variable speed motors. VLink® wireless motor interface offers the ability to set, adjust, and monitor pump motor schedules from mobile devices. The program flexibility allows the user to monitor and manage energy consumption as well as set custom overrides for parties and cleaning. VLink wireless motor interface works with both Android and iOS mobile devices. Now, energy conscious pool owners have the ability to wirelessly monitor and manage their VGreen pump motor anytime anywhere!
Additional Data
THP
RPM
VOLTS
AMPS**
Flange
Percent Energy Savings
Stock Number
3/4 Min. to 2.7 Max
600-3450
230
10.5
1.0
Square
80%
ECM27SQU
C-Face
ECM27CU
*Percent energy savings over the equivalent single speed motor. Energy savings of 80% or more depend on variables including user defined speed settings, duration of operation, environment, and unique hydraulic requirements for satisfactory pool filtration. See the Energy Savings Calculator at www.pool-motors.com to estimate savings potential.
**AMPS - Max amp draw is dependent on motor speed and impeller rating.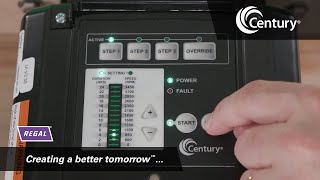 How to program the VGreen 165 and 085 variable speed pool pump motors
The Century® VGreen® 165 and 085 variable speed pool pump motors are simple to program. Learn how to program the schedule and the override settings.